I ordered 10 samples of Alkemia Perfumes' perfume oil and I got two free samples!
All tightly sealed with no leakage!
So these are the samples I ordered:
A Roll in the Hay
Affaire de Cœur
Antares
Au Lait
Calliope
Gaea
La Sirena
Lux Aeturnum
New Orleans Love Spell
Praire 66
Free Samples:
Perfume Oil General Review
I'm a huge fan of Alkemia now. Their scents last forever! On average, the smells waft above your skin for 3-4h, and stay on your skin for over 7-8h. I've even fallen asleep with some of these scents, and could still smell them on my skin the next day. Good luck washing the scent off in the first 1h -I went to the bathroom, washed my hands, and I could still smell the perfume. They're that good. That's why my review took forever. I couldn't just wash off a scent and put on another; I had to wait several hours before the scent's really gone, so I can only review 2 scents/day.


Turn Around Time
Ordered: Apr 23
Shipped: Apr 24
Arrived: 7 May

It's super fast, I'm impressed!



Scent Review:
A Roll in the Hay
"A delightful summertime romp with dried hay, fresh green grass, early summer wildflower honey, vanilla grass, vanilla leaf, and wild poppy."
On first whiff, oh my god this smells heavenly. It smells like smashing your face into a bouquet of wildflowers and a tub of honey-drizzled vanilla ice cream. Then I start smelling something that smells like dirt and dried grass. I've never smelled hay before, so maybe that's how it smells like? It actually smells like dirt and dried grass. Actual dirt and dried grass, not the romanticized kind. And that's the strongest smell on the surface. I really wanted to like this since it smelled so good on first whiff, so I tried it again the next day. I'm still not a fan on this scent on myself, though I totally would use this for an ambiance smell in a room. I once attended a Chanel show where they made the entire room look like a barn and they managed to get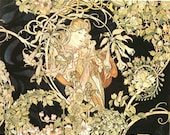 Image courtesy of Alkemia Perfumes
Affaire de Cœur
"A flirtatiously feminine enchantment of sugared white musk, creamy Madagascar vanilla, white sandalwood, tonka bean, white amber, and pale sugar cane."
It initially smells like some candy from my childhood that I just can't placed. Eventually undertones of baby powder and buttered popcorn starts emerging. I'm serious. Buttered popcorn. It smells amazing. Food is definitely the way into my cœur, so I'm a fan.
Antares
"Queen of the Night, Dried Wild Roses, Mandarin, Nicotania, Oakmosses, Cactus, Juniper, Acacia buds, Fir Resin, Clary Sage, Cedar Needles, Labdanum, Guaiac Wood, Germander, and White Patchouli lightly bathed in dewy Water Musk."
It smells like something cool, and slightly masculine. I really like this scent, I think I'm going to get this for my bf as a "present" I'll help myself to every now and then...or maybe everyday. I recommend this as a unisex perfume. A lot of unisex perfumes end up with just a lot of citrus, but this one manages to just smell like sugared ocean and still remain unisex. Maybe it's a bit too sweet for some men, but I know tons of stinky men who'll benefit from this slightly sweet smell. I love it!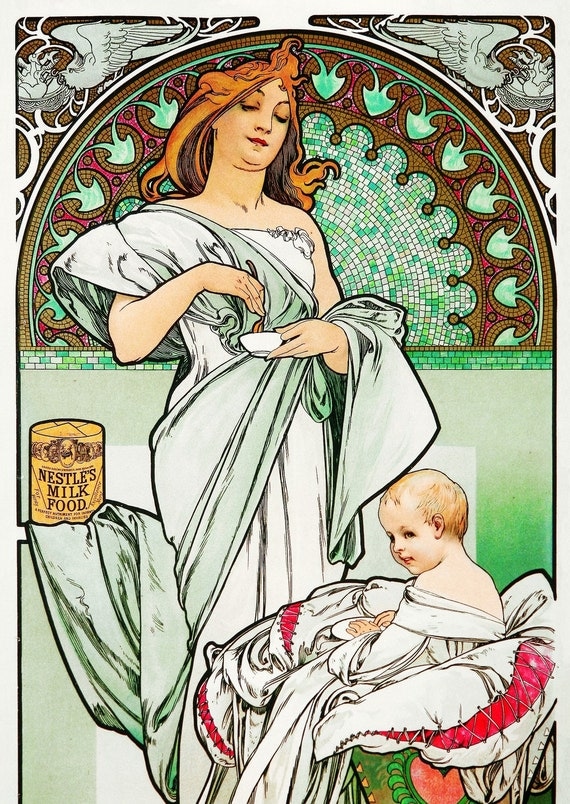 Image courtesy of Alkemia Perfumes
Au Lait
"A cozy, ultra-cuddly blend of rich, creamy milk swirled with tonka, wild honey, and a touch of caramelized brown sugar."
It starts of cloyingly sweet, then it settles into the scent of this caramel milk candy that I like. It smells so delicious and I have to resist the urge to lick myself. I think I'd love a bath product in this scent, but I'm not so sure if I like it as a perfume though.
Calliope
"A beguiling divertissement of piquant clementine, orange blossoms, white orchid, sugared currants, tonka, and vanilla musk whirled with flirtatious teases of billowy cotton candy floss and kisses of saltwater taffy. "
This is just heavenly. There's a clean, soap smell, mingled with something that smells like creamy melons, mango and warm sun on a beach. I feel like I'm in a 5-star beach resort, sipping on my fruit smoothie while lying in my bed that smells like fresh linens. Actually, scratch that. If I'm on vacation, make my fruit smoothie alcoholic. Yes...a tropical cocktail in bed. That's how I feel right now. I can just drown myself in this scent. Love it!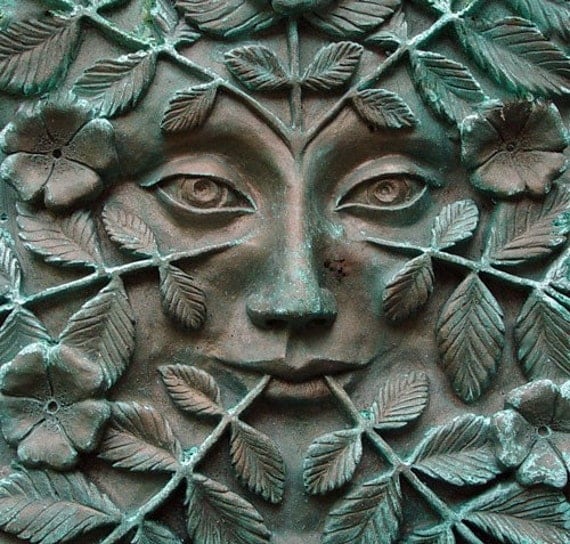 Image courtesy of Alkemia Perfumes
Gaea
"Forest loam under warm spring sunshine, new ferns poking up through decaying leaves, maple sap flowing over lichens, mosses and wet stones at the edge of a vernal pool."
I'm not sure why, but it smells exactly like dirt on me. I'm not saying dirt metaphorically. It smells like actual dirt. I'm not a fan, but I'm still impressed how much like dirt it smells. I remember going to a sex store where they sell fetish perfumes and one of them was dirt. I think that perfume maker should use this scent instead.
La Sirena
"A mesmerizing spell of oceanic aquatics, saline seaweeds, and garlands of fresh Tiare flowers offered to the sea. Hauntingly elusive."
It starts of as a fresh smell with something anchoring it down. Is it weird a smell can manage to be fresh and mellow at the same time? Makes me feel like I'm walking through a quaint, seaside town where the scent of the flowers decorating the houses mix with the smell of the wild, blue sea. Unfortunately, the blue notes became more and more prominent after about 1 1/2 hours. I got my friend to sniff it for a second opinion and she said it smells like room spray. After another hour, a more heavy, floral smell settled in. My friend says it smells like an "old lady perfume". I'm ok with this, but not too crazy about it.
Lux Aeternum
"An homage to the return of the light and the unity of life and death. Red, ripe pomegranates and roses warmed on a bed of solar amber."
It smells like liquid sunshine! Molten honey and warm sunshine. Absolutely divine. It starts as pure honey with a hint of something tangy to balance it out, and gradually became golden honey on a gorgeous, warm sunny day with the smell of ripe fruits and flowers wafting around. I'm considering getting this in full size!
Moss Maiden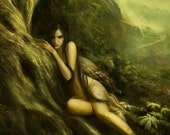 Image courtesy of Alkemia Perfumes
"The wild seduction of a full moon night in a northern forest. A delicately feral blend of luxuriant mosses, crushed wet ferns, earthy calamus root, piquant cedar tips, galbanum, balsam pine, lichen, disturbed autumnal leaves, and aromatic incense woods."
Initially, it definitely smells green. It's a soothing, woodsy smell with a hint of something wild. Eventually, a more creamy, sweet scent emerges and the green scent takes a backseat. It becomes a slightly heady, floral smell. It makes me imagine an old hidden temple that's been taken over by the forest, but still retains the smell of thousands of incenses burnt over the years. This scent is strong 3h in and after I fell asleep with it, I can still smell traces of it 8h later. I mostly only smell an amber smell by that time though.
New Orleans Love Spell
"A lascivious blend of night-flowering New Orleans jasmine and fiery spices igniting a base of red sandalwood and skin musk."
This smells strongly of cinnamon and cloves. Remember those Red Hots candy? It smells just like that, so much that I already feel my tongue burning in anticipation. I personally didn't like those Red Hots, so I'm not a fan. If you love those candies, you'll definitely love this.
Prairie 66
"A free-spirited, herbal-fresh summery blend of Sage Flowers, Aldehydes, Grapefruit, Linden Blossoms, Bergamot, Saffron, Gray Amber, Yucca, Yuzu, and a touch of cool concrete."
It's a cool, slightly powdery smell with a hint of something herbal. Unfortunately, it's the same smell as Baygon, a popular insect repellent in Indonesia, so I can't shake off the feeling that I'm wearing that insect repellent.
Vixen
"A captivatingly shapeshifting blend of sexy white amber and luminous late summer night blooming florals awakened by warm caresses of autumnal spice, golden musk, varietal apple peel, sugar pumpkin, jasmine tea, and a whisper of woodland mosses."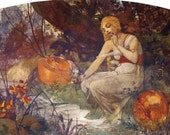 Image courtesy of Alkemia Perfumes
Oh my god this smells amaaazing at first. I normally don't like amber but I can't smell any amber. Instead, it smells mostly of a delicious vanilla with another mouth-wateringly edible smell I can't place. Eventually it began smelling like spiced chai -vanilla, cinnamon and something spicy. My friend likes it and I like it too, but the it smells too much like a vanilla candle I have. Well, men supposedly find edible smells (vanilla especially) a turn on so maybe I should try this on the boyfriend when I next see him.
_____________________________
So here's the tl;dr:
Love!:
Affaire de Cœur
Antares
Calliope
Lux Aeturnum
Like:
Au Lait
Vixen
Moss Maiden
Ok:
Nope:
Gaea
New Orleans Love Spell
Praire 66