Happy New Year everyone! This post is a very short scent review this time!
I got to try 3 scents from
ZOMG Smells
' Spoopy Life collection thanks to Ajevie's decants. This is my first ZOMG Smells orders and I have to say I'm impressed with the quality and uniqueness of these scents! Even though I only found 1 scent I liked out of the 3, the quality of these scents are still great.
The scents usually start of at faux whispering distance, though some notes float up to casual conversation distance. It goes down to whispering distance at about 40 min and by 2h, you have to get close to your skin to catch a whiff.
So on to reviews! As usual, reviews are done blind until the TL;DR's written. If anything in the notes surprise me, I write an overview.
Orc Audacious
"Iris, Ylang-Ylang, orchid, deeply feminine musk, and the faint, sweet smoke of your warband's campfire."
Oh my god, this is gorgeous! It's a clean floral scent, with the bitterness of orchids. I'm just really impressed they captured that bitter orchid scent. I know it's not for everyone though, since I've heard the smell of orchids compared to death before. There's also a smoked wood base to this. This is definitely a unique yet extremely classy, high end sort of floral scent, and the bitterness adds a dark mysteriousness to it.
It smells like a very expensive, artistic floral arrangement by an artist that wants to make an emo statement with flowers for irony, or a scent that can easily be the scent of the year among the fashionable crowd who are attempting to achieve a mysterious, ethereal look through emaciation, and want a perfume to capture that. Here's the perfect model for this scent.
And add a touch of emo-ness because that totally adds depth to your character.
Amazing photography by Brian Harwood, the model's name is Sasha and I can't find any other info on her.
Oh, and just because you guys would crack up over this too, here's one of the comments on that picture:
Unfortunately, after 40 min, the scent dries down to just a very, very sweet scent, with a hint of bitterness.
TL;DR:
Dark, mysterious and clean florals.
Peasant Under Glass
"This tastefully entrapped peasant has been fed fresh, wholesome peasant loaves, white cake, and rubbed with white musk, lemongrass and ginger. The cow in the picture is just for decor."
This smells like a perfumed spiced cake. The perfumed bit got sweeter and stronger until it smells like a yellow car perfume that comes in tins. It's a bit too strong and cloying for me. The initial spiced cake scent was delicious though, and I can still smell it underneath, but it's drowned out by the cloying sweetness.
TL;DR:
Really sweet yellow car perfume with hints of spiced cake.
Overview:
I definitely can identify the lemongrass on 2nd sniff. It's the part that turns yellow car perfume.
Woodwife
"Niaouli, dripping honey, and the beguiling notes of a forest rendezvous."
Omg, medicinal wood! Really, really medicinal wood. With something icy. The wood is medicinal in more like the mushrooms and European herbal salves sort of way. I'm now thinking of Granny Weatherwax.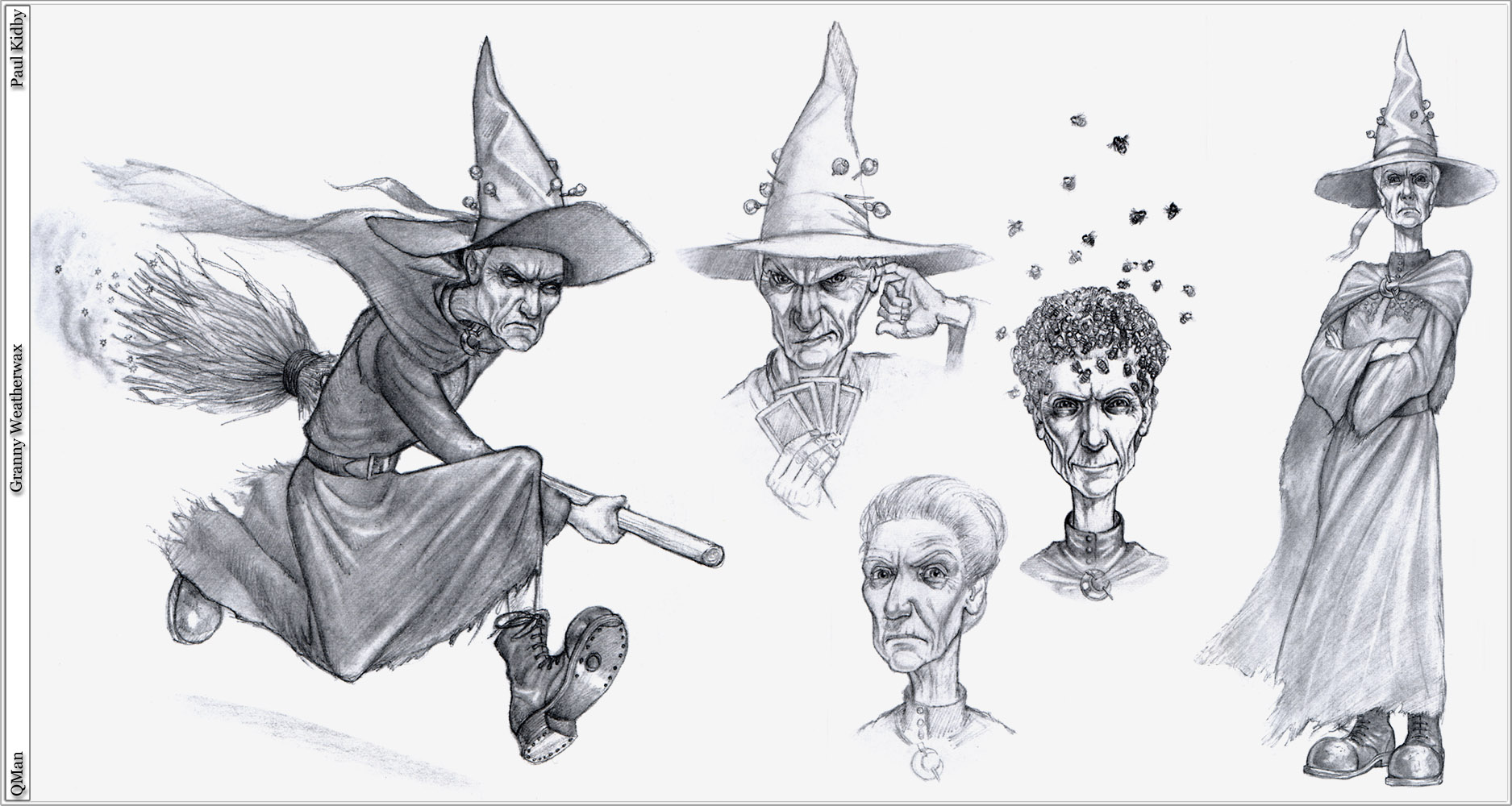 One of my favourite characters ever and this is the closest illustration to how I imagine her to look like.
Artwork by Paul Kidby
I don't know how many of you read Terry Pratchett's Discworld, but Granny Weatherwax is one of his characters. She's a witch who prefers using psychology and medical knowledge rather than magic to help people. This is how I imagine she'd smell like after making a round around the village –soaked in herbal salves for healing wounds, but still radiating her usual steely, icy coolness.
TL;DR:
Granny Weatherwax